I graduated!
Last year. Yup, it's been a whole year since I got my first degree. Literally a year to date. The funny thing is I just picked up my diploma TODAY. I know, just a little late. I studied Liberal Arts at Essex County College and I must admit I'm pretty proud of my self. Not only do I have a degree but I'm 20 years old, I have a job, I'm in my second school (Kean University) for my second degree and I pretty much know what I want to do for the next chunk of my life.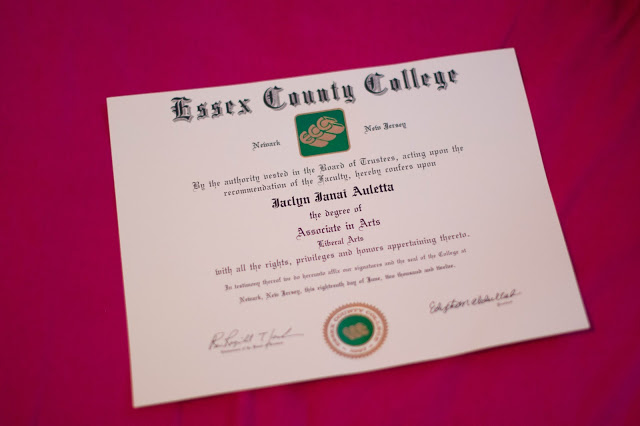 Shooting weddings is a big aspiration for me now a days and the more I read and look into it the more I strive to practice with more couples. I've got a few people on board for practice but I definitely need more. So CALLING ALL COUPLES if you want any pictures, whether for an engagement or not let me know, I'd love to take them! : )
School on the other hand is no longer what I'm really striving for. Not that I don't love my school but they just aren't teaching the curriculum I want to learn. I don't want to keep spending my time and money on an institution that isn't helping me go further in life. But I also don't want to be a college dropout. I want to be able to say "yes I have a B.F.A in Photography". It's what I love to do and what I would like to make a living out of so it would be fitting that I have a degree in that right? I have yet to find a school that gives students hands on training in the field shooting portraits WITH an instructor or with the entire class that's not obscenely expensive or clear across the country. Until I find that school or make up my mind about taking classes and not trying to get a degree I may be dropping out after this fall semester. Sad I know, but I think it could be ok in the long run. I can focus on working and saving money for equipment and shooting more and more weddings and engagements to get my business off the ground. Nothing is set in stone but only time and prayer will tell. So until then..
Peace out for now!